S. S. Polias
The Polias was the first ship in the WWI Emergency Fleet to be constructed although the Atlantus was launched one month earlier. She was constructed by the Fougner Shipbuilding Company, NY in 1918. Since the Polias launched after the war had ended, she was purchased by a company and used to transport coal in New England.
In 1920, the Polias was caught in fierce storm off the coast of Maine and struck an underwater ledge. Defying Captain Richard T. Coghlan's orders, eleven of the crew tried to leave on a lifeboat and subsequently drowned. The rest of the crew stayed aboard and were rescued the next morning.
Attempts were made that summer to free the ship but were unsuccesful. The Polias remained intact for several years until 1924 when a hurricane rolled the ship over and broke it apart.
In the summer of 1999, Larkin Post, a graduate student in the Maritime Studies Program, conducted the Polias Project for his masters thesis. Larkin and his team spent almost two weeks documenting the wreck.
Location
The remains of the S. S. Polias lie in about 30 feet of water off of Port Clyde Maine. At low tide, a portion of the ship is visible above water.
Photos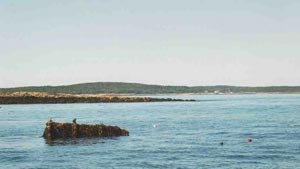 The wreck of the Polias visible at low tide (Click for a larger image)
Related Links